Music
The Silverback Band kicked off our 2019 music season on Dragon Rally weekend
  still to come this year…
  Buddies Betws Music Festival 30th June 2019
the event coincides with the last day of the Snowdonia Challenge (see details below). Our celebratory Buddies Festival includes a full day of live music, whilst hopefully soaking up the rays in the beer garden… last years event was filled with sore feet, good vibes and sunshine galore – let's hope 2019 is just as fabulous! The festival is partnered alongside local charity Conwy Connect who do amazing things in our community and are always on the lookout for volunteers!
The Snowdonia Challenge is a three day walk covering 100k of Welsh countryside. Registration is now being taken for 2019 head on over to the Challenge website for more details
Moelwyn Male Voice Choir take the main stage every other Friday through the main summer season and don't miss them at Christmas for Carols & Candles   "….deck the boughs…." – pure nostalgic heaven
Thursday night is Jazz Night – the Dixieland Jazz Rag on stage every Thursday of the year from 8pm
We welcome back The Alibis to Y Stablau during 2019 as well as a host of other local talent. Back in August 2018  the Skylight Aura Duo played their inaugural solo set in Y Stablau, having originally played alongside the HedgeGods at Buddies yn Betws where they were a massive success – we're hoping to book them again in 2019 if their diary permits!

For all forthcoming gigs – check out our Facebook page for current listings.
Whats on in & near Betws for 2019? Well here's a few of our faves;
Eisteddfod Genedlaethol Sir Conwy 3 – 10 Awst 2019 – a week of Welsh culture, Art, Music, Poetry, Drama, Comedy and Dance – also this year there's a science and technology village – the best of Wales all in one week of celebration
Snowdonia 24 – September 21st/22nd – a brand new team or individual challenge based in the Gwydyr Forest where endurance is the name of the game
Wales 360 – July coming to Betws on day 2 this incredible 6 day point to point trail riding experience inspired by British cycling's The TOUR – covering 552kms of incredible Welsh countryside
The Return of the Hut
Every November we have an exciting addition to the terrace for the winter months.
Our very own Bavarian Style Log Cabin, affectionately known as "The Hut". Complete with a big toasty log burner, wool blankets to cosy up under and alpine style interior.                                                It's a great venue to catch up with friends or hunker on down after a long winters walk in front of the log burner with a pint or a deluxe hot chocolate… (shot of rum in mine please!).                                 Well behaved four-legged friends are very welcome – there are even cosy dog beds available for them to curl up in…
Oompah Opening Party
To celebrate the return of The Hut, opening night is a grand old foot stomping, stein bashing, ceremonial singalong! Alongside a guarantee of Bier sloshing and Bratwurst consumption!                                             Saturday 16th November 2019 – get the date in your diary!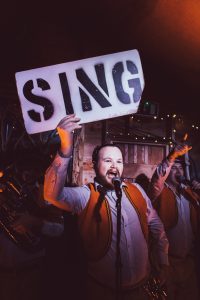 party with a twist and hold it in a shed…..
 The Hut is available for private hire – give us a call on 01690 710011 for details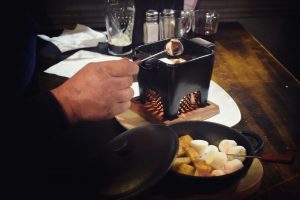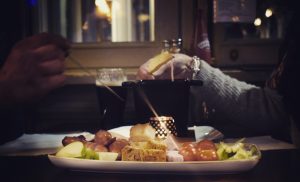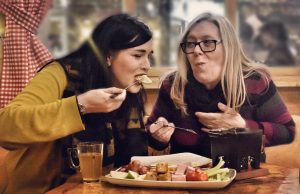 Seasonal Events…
even Storm Callum didn't stop the Conwy Valley Real Ale Trail coming to Betws on Saturday 13th October with a stop off at Y Stablau en route for a pint of Wild Horse – a much needed respite from the wind & rain! We hope 2019's event is a little less windy….
And as every snow bunny knows the end of the season means an ultimate apres-ski celebration is due…
To mark the last day our Hut is open we hold an Alpine Party Night at the end of January
on the menu;
deluxe sharing fondues, mulled wine, hot spiced cider, roaring log fires, chilled-out DJ vibes, hot chocolate cocktails, ice cold schnapps…..salopettes and lederhosen optional!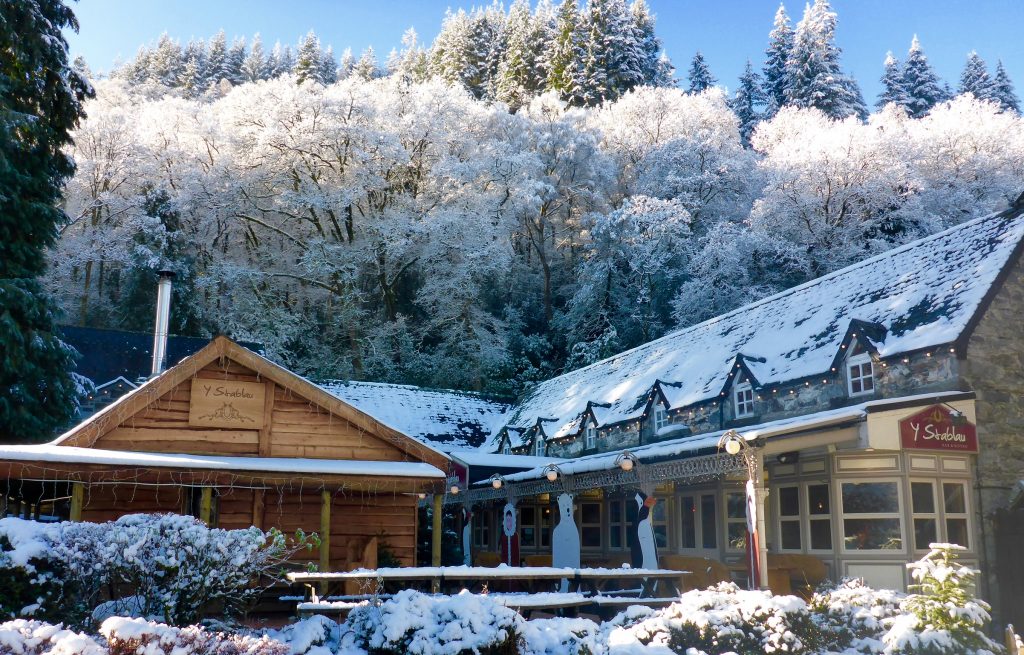 Sport
If its simply settling in in front of our 70" or 77" TV to watch your team play, be it on Sky or BT Sports, there's always something going on @ Y Stablau!