Hungry? Here at Y Stabalu we're passionate about using as many local suppliers as possible. Amongst many local producers we feature free range eggs from a traditional Welsh hill farm (Ochr Cefn Isa) and our local butcher's wares are highlighted on our burger selection (OE Metcalfe).
All our dishes are freshly cooked to order and our menus are written with you in mind – we know if you've just climbed Snowdon or sped down a mountain bike trail you'll want hearty food to replenish and replete after a day out in the fresh air – we've a great kids selection in house too!
---
What's New…
in line with Welsh Government Regulations we are still closed for dining until the 26th April…..
in the meantime
take it away from the 17.4.21 from 8-8pm

open daily from 17th April 12-5pm in the courtyard – Y Stablau on the Move – more than just coffee

Outside Dining times tbc from the 26th April
our terrace is currently under refurbishment ready to welcome you back

Join us inside or on our gorgeous new-look Terrace. Book your table using the link below or turn up & see the Host at our Welcome station. They'll make you an immediate booking & seat you as soon as a table is available. We take lead contact details when you arrive for NHS Track, Trace & Protect Cymru and have your temperature taken before any burger consumption commences ….
Ordering
Now we have three great ways you can order your drink & food!
1- order with one of our servers – disposable or digital menus available
2- order digitally via your phone…..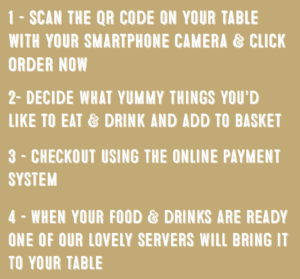 3 – scan the QR code at the entrance and order it to takeaway!

Our Menu
If our menu looks slightly different to usual – don't worry we're still keeping your favourites on there! We're currently reviewing all our supply chains and ingredient availability so we'll be using our specials boards for extra yummy dishes as we continue to evolve  – if they're doubly delish we'll add them to our main menu on our next print run! 
Burgers
All our beef & lamb is sourced from local herds and flocks, exclusively supplied by our butcher O.E. Metcalfe in Llanrwst and our burgers served in local bakery Brioche rolls, served with relish, slaw, salad & chips
Classic Welsh Beef 
Welsh Lamb
Hot Chicken – chargrilled chicken and bacon
Cajun – spiced roast veggies & halloumi (v)
The Dragon – chilli spiced beef burger with jalapenos
The Welsh – 8oz beef burger with Welsh rarebit topping
The Snowdon – climb it at your peril… 16oz's of prime Welsh beef smothered with layers of Welsh rarebit
The Three Peaks – only for the brave… the ultimate 3 tier 24oz burger, prime Welsh beef, bacon, Welsh rarebit and onion rings
Curries
Tikka Masala.                                                                                                                                               Wok Cooked Chicken, King Prawn or Mixed Vegetable
chillies, tomato, turmeric, paprika, cumin, coriander, yoghurt
Katsu Chicken 
panko coated chicken breast & katsu curry sauce
Veggie
Five Bean & Vegetable Chilli with basmati (vegan)
Pair of Glamorgan Sausages, tomato & garlic sauce, salad & chips
Chickpea, Spinach and Tomato Curry with rice 
Stablau Classics
Chicken and Smoked Bacon Penne
Homemade Beef Lasagne
Spicy Piri Piri Chicken Wings
Homemade Chilli Con Carne
Hunters Chicken
Half Roast Chicken
Fish
Y Stablau Welsh Beer Battered Fish & Chips
Salmon Fillet, sauteed vegetables, new potatoes, dill & lemon butter
Whitby Wholetail Scampi in a Basket

Asian Inspiration

Sticky Chilli Fillet Steak, pak choi, sesame seeds & steamed rice
Tenderloin of Pork, sweet & sour sauce, basmati

Pizzas
Made with our own hand rolled dough 9″ or 12″
Margherita – the classic tomato & cheese
Welsh Farmhouse – home cooked ham & mushroom
Hawaiian – ham, cheese & pineapple
Y Cymro – fillet steak strips, caramalised onions, blue cheese sauce, rocket
Amerian Hot – pepperoni & jalapeño peppers
trivia alert– invented in 1962 by Sam Panopoulos, born in Greece and moved to Canada when he was 20 – the Hawaiian got it's name because of the brand of pineapple tin he used when creating it!
Salads
(v) Superfood with Quinoa, Beetroot, Chickpea & Roast Pepper
Add your protein – salmon or chicken
Welsh Cheese Ploughman's – salad, apple, pickles, half pork pie, breads
Side Orders
Toasted Garlic Ciabatta plain or add melted cheese
Battered Onion Rings
Chips single or double portion sharing basket
Cheesy Chips – forget the point counting with these!
Sweet Potato Skinny Fries
Side Salad
Homemade Slaw
Veggie Bowl
Naan Bread
Nachos – melted cheese, jalapeños, salsa and sour cream dip
Day Menu
Only available between 12 to 5pm –
our bread is made by the lovely folks at TanDderwen Bakery
Sandwiches
Chicken, bacon, & tomato mayo
Egg Mayonaise
Seared Halloumi and Roast Red Pepper (v)
The Crofter: home cooked ham, Welsh cheese and pickle
Tuna Mayonnaise and balsamic leaf salad
Poached Salmon & lemon mayo
Turkey Breast, sage & onion stufing
Panini & Bloomers
Welsh Rarebit Bloomer
Tuna, Mayo & Cheese Melt Panini
Melted Brie, Bacon and Cranberry Panini
Jacket Potatoes
Melted Welsh Cheese
Tuna Mayonnaise
Welsh Beef Chilli Con Carne
please inform your server of any allergen or intolerance requirements before you order